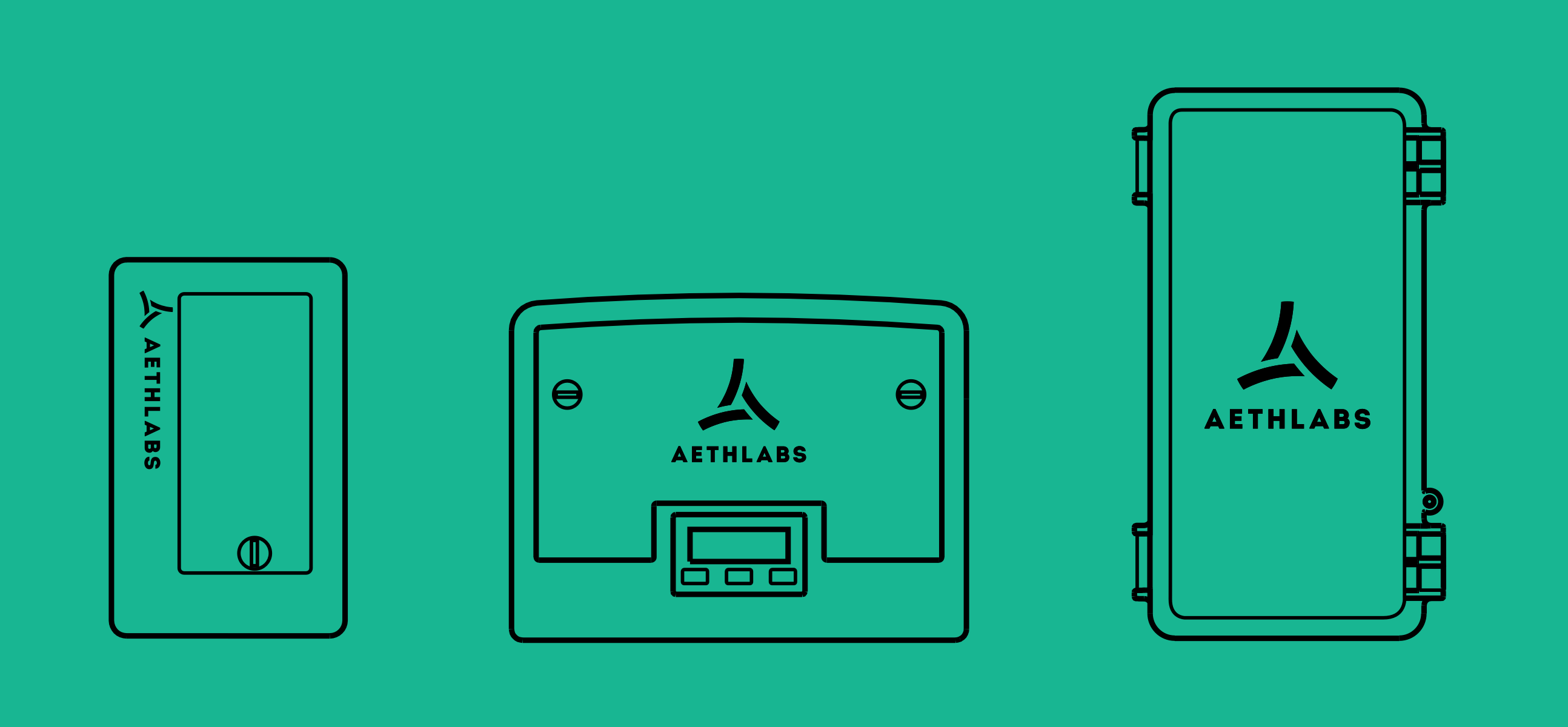 AethLabs is pleased to announce its new line of aerosol Black Carbon monitors. The MA series consists of three new products to complement the microAeth® AE51 personal exposure monitor for Black Carbon. This new series of instruments boasts many advanced features integrated into compact, lightweight form factors.
The new full spectrum MA series continuously collects aerosol particles on a filter and measures optical absorption at 5 wavelengths spanning UV - IR at up to a 1hz data rate. These new devices use a miniature tape transport mechanism and easy-to-exchange filter cartridge for the automatic advance of filter tape material, enabling unattended operation from multiple weeks to a year, depending on the model and environmental factors. The multi-wavelength spectrum measurement provides insight into the composition of light absorbing carbonaceous particles and helps to distinguish among the different optical signatures of various combustion sources such as diesel, biomass, and tobacco. The instruments support the DualSpot® loading compensation method which corrects for the optical loading effect and provides additional information about aerosol optical properties.
Wireless communications are provided for network or smartphone app integration and connection to other wireless health and environmental sensors. The USB data connection provides communication with the new cross-platform microAeth® Manager software available on macOS and Windows. A dedicated serial data port is provided for streaming data to data loggers or direct integration with other microcontroller host systems. 
Key features:
Lightweight, compact and ultra-portable 
5 Wavelengths IR - UV at 880 nm, 625 nm, 528 nm, 470 nm, 375 nm
Automatic Tape Advance: 15 or 85 sampling locations

Up to 1 year of sampling per cartridge, depending on model and environmental conditions

Hardware supports DualSpot® loading compensation method
Easy to replace filter tape cartridge
GPS with internal antenna
Satellite time synchronization / ISO 8601 format
USB, Serial, WiFi, Bluetooth Low Energy
Internal rechargeable lithium-ion battery
Selectable integration timebase of 1, 5, 10, 30, 60, 120, 300 seconds
Internal pump with closed loop flow control: 50-200 ml/min
3-axis Accelerometer
Temperature and Relative Humidity
Altimeter / Barometer
Internal memory capable of multiple years of storage
This new MA series of devices will be shipping in a first release, January 2017.
We are anticipating high demand. To secure priority delivery in the first release, you can ensure your place in the pre-order queue with a deposit.
Recommended applications, comparisons between each microAeth® monitor, and more info is available here.
For a quotation click here.
If you'd like to see one of these devices in person, AethLabs will be present at the following upcoming conferences / trade shows:
Patents pending. DualSpot® is a trademarked name used under license from Magee Scientific Corporation.
Post date:
August 4, 2016 - 11:57am